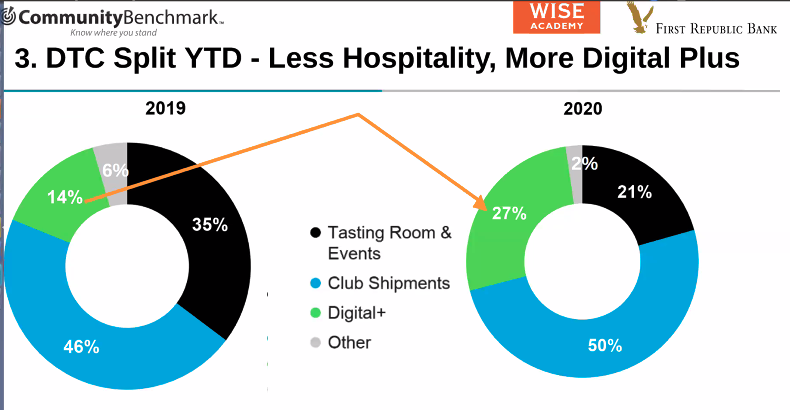 As the U.S. economy ground to a halt earlier this year, there was a prevailing sense that the wine industry was heading into rough waters not seen since past economic downturns.
Drawing on experience gained after 9/11 and the Great Recession, winery staff re-ran their direct-to-consumer projections for 2020 with the expectation of significant revenue losses and member attrition.
"It just didn't happen," says Leslie Berglund who is the co-founder of WISE Academy and an expert on tasting room and DtC sales. "As a matter of fact, our club members are even more loyal; they're more sticky than we thought."
According to data by Community Benchmark, average winery tasting room traffic at its client wineries is down 48% in 2020 through October compared to the same period in 2019. Average DtC revenue, however, was down by just 2%.
While wineries are hosting half as many consumers, they're still making about the same amount of money via DtC from their existing club members.
The average net growth of wine clubs has declined 1.3% in 2020 but average club sales are up 16%. Of that increase in club sales, 31% is from members buying more wine in addition to their regular shipments. "That's where the growth is," Berglund said, "you can see there the majority of growth in club sales is coming from engaging your club members outside of the regular shipment."
Berglund's comments came during a webinar in which she joined Community Benchmark founder John Keleher to discuss how wineries managed their DtC programs during the past year. The session was hosted and sponsored by First Republic Bank.
Community Benchmark's data comes from more than 200 wineries who agreed to share their DtC numbers anonymously so they can all glean insights from that aggregate data. In 2020, "digital" sales (which include phone and e-commerce) accounted for 27% of total DtC revenue compared to 14% in 2019. The share of club shipments has increased from 46% to 50% while tasting room and event revenue has fallen from 35% in 2019 to 21% this year.
Berglund said between May and September she and the rest of the WISE team met with 17 regional wine associations and hundreds of winery staff to discuss best practices in a very different and disrupted wine business.
Based on those conversations and the data, she said it's clear that the most successful wineries have kept digital and phone sales a priority while also keeping their tasting rooms as full as possible. "Those are the ones that are killing it during this time," she said.
Digital sales have increased 80% overall among Community Benchmark member wineries and of that web sales have roughly doubled on average while phone sales are up 60% to 70%.
The pandemic sales surge shows that wine club members can account for significantly more business than just their regular allotments. Berglund said with virtual tastings here to stay wineries also need to start using their best consumers as a way to acquire new ones by letting club members invite their friends and family to virtual tastings and creating a "domino effect" to pull in new members.
She added many club members may work for a large company or corporation that hasn't been able to use most of its travel and entertainment budget so they could also be a way to drum up corporate sales. "This is absolutely a solution to a problem they have and dollars that are burning a hole in their pockets," she said.
Article by Andrew Adams, winebusiness.com
December 07, 2020
A copy of the presentation and recording of the webinar are available at: https://communitybenchmark.com/frwebinar2020
Posted by activ8commerce
On December 16, 2020
0 Comment