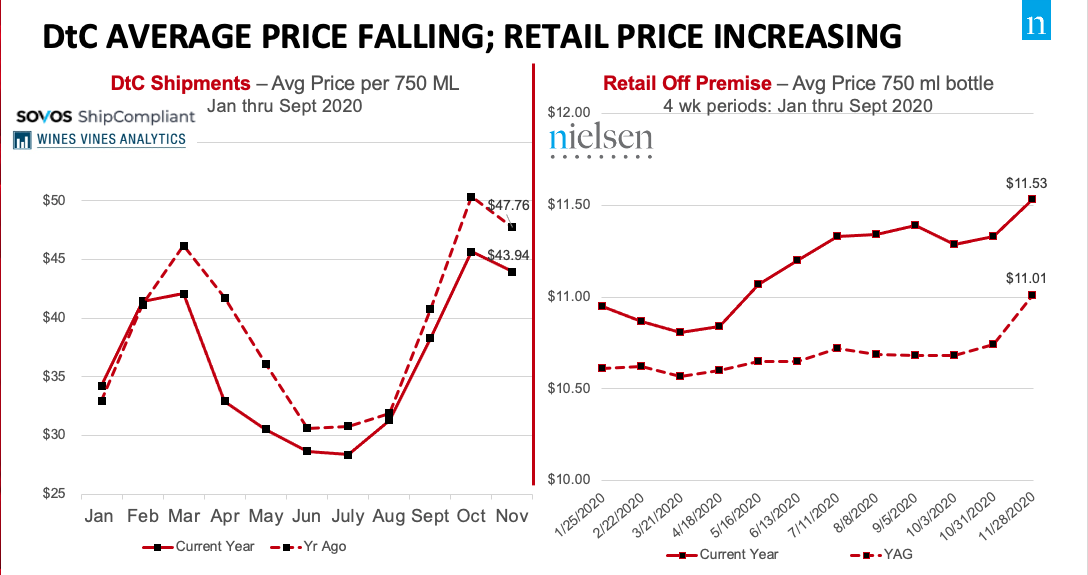 The average bottle price of winery direct-to-consumer (DtC) shipments continues to decline as the overall sales volume of the channel increases, while the opposite trend is taking place in retail channels.
According to the latest retail and DtC data by Nielsen and Wines Vines Analytics/Sovos ShipCompliant, DtC shipment volume was up 17% to more than 977,000 9L cases in November compared to a year ago, while off-premise sales value increased by 11% to nearly $1.8 billion.
In the 12 months ended November 2020, the retail channels tracked by Nielsen came to $20 billion and 209 million cases, while DtC came to $3.65 billion off of 8.2 million cases.
While both channels were up over the previous year, the growth was at the lowest rates since the market was first roiled by COVID-19 in March. It was also the first time since March when retail value growth exceeded the value growth of DtC shipments.
The data also indicate this year's Thanksgiving did not come with the traditional sales bump as most U.S. consumers celebrated the holiday while being mindful of the ongoing pandemic. "It's evident that consumers generally were not celebrating Thanksgiving as they would have in prior years, and with that, their purchases of wine only minimally exceeded year ago levels in the off premise," wrote market analyst Danny Brager in his summary of the latest data.
Other findings by Brager:
• November DtC shipment volume reached an all-time, historic high.
• Price tier growth was substantially better at less than $30 per bottle than over $30, and volume growth doubled value growth. The resulting average price per 750ml bottle dropped by almost $4 versus a year ago, to just less than $44.
• Large wineries (producing more than 500,000 cases per year) continued to lead DtC growth by a large margin. Average bottle prices of limited-production wineries (producing less than 1,000 cases) — traditionally the highest — dropped substantially.
• While dollar growth continued to exceed volume growth in retail, the differential was sharply reduced – so the off-premise trading up in price points was less pronounced this month. But at the same time, all price tiers more than $11 were up double digits.
• Sauvignon Blanc and Sparkling wines outperformed all other major varietals in retail by a significant degree, with rosé the only other wine type in double digit growth territory on both dollars and volume.
The combined data on retail and DtC is part of a new report that includes additional analysis on sales trends within price tiers, varietals, wine origin, winery size and destination markets. For more information contact Brager at: danny.brager@nielsen.com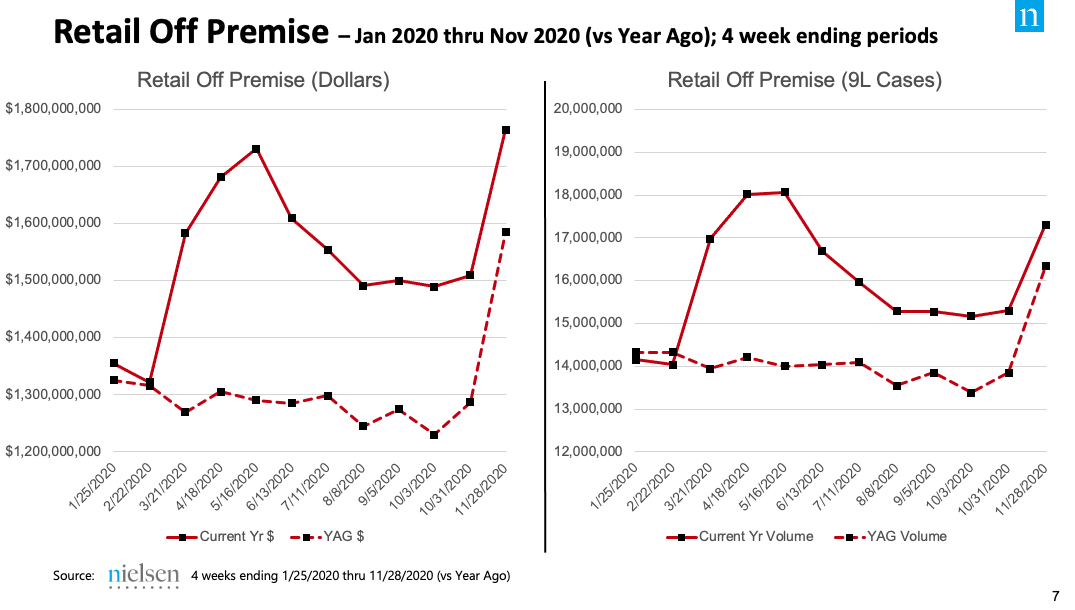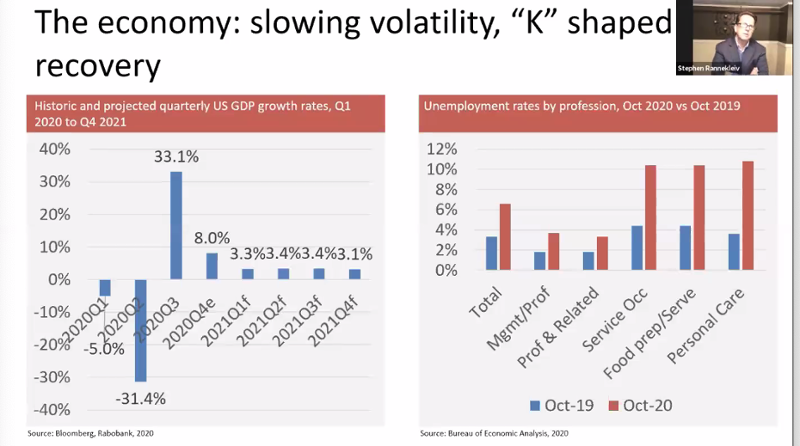 By Andrew Adams
Article Location: winebusiness.com/news/
Original Article Date: December 21, 2020
Posted by activ8commerce
On December 28, 2020
0 Comment